­
HERRINGBONE
Discover a new elegance in walking, standing and living. Herringbone, the fashionable flooring with its innovative installation technology from SWISS KRONO, can transform even your living-room into an inviting lobby.
Thanks to the characteristic herringbone look, a touch of Wilhelminian style has found its way into the modern home – your home. Available in different shades, this highly up-to-date and yet classic-looking popular flooring can be combined with practically any furnishing style. Herringbone lends even the most minimalist ambience a subdued nuance of Art Deco and Art Nouveau. Inevitably, the panels arranged in staggered 90° angles recall the golden age of Viennese cafés, Italian opera houses and classical theatres without impairing the modernity of the interior. With their rectangular arrangement, the individual panels, which are 665 mm long and 133 mm wide, enliven and enrich the effect of the room with classic restraint.
With Herringbone, we have developed a completely new form of presentation and laying for skilled DIY application. The easy-to-handle two-piece set makes the installation of an elaborate floor covering easier than ever thanks to the modern CLIC system.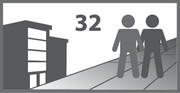 Классы эксплуатации
КОММЕРЧЕСКАЯ СФЕРА 32 AC 4
Свойства декора

Clic System
Сертификаты






Общий допуск строительного надзора - - DIBt (Немецкий институт строительной техники)